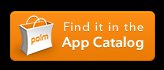 Update 1.5.3 :
Update 1.5.2 :
New dashboard for alarms and palm launcher shortcuts.
New Quick actions (Forums for example)
Improved alarm system (still in beta). User can now choose repeat interval between alarms
Description :
MAL is an awesome application that will deliver all the power of WebOS multitasking. Select your favourite applications, and launch them simultaneously with one tap! Start app groups at set times.
With Quick Actions perform actions after launching an application. For example, 6:59am : Launch an app group including :
A twitter client Bad kittty – programmed to display your profile.
Web browser, which opens a predefined Website.
Foursquare, programmed to display your favourite venue.
Google Maps, programmed to show stations nearby.
Several games.
Email app with filled information like mail adress.
All your favourite News apps.
Wake up at 7:00, everything will be loaded and you'll be ready to begin your day ! Program your applications to suit your needs. Create shortcuts in the Palm application launcher to launch easily multiple applications at once ! Multiple App Launcher (MAL) will enhance your WebOS experience. Stack Features will come with WebOS 2.0