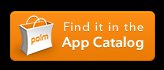 Multiple App Launcher allows you to start multiple applications at once, avoiding tap, flick and gestures.
Video tour : http://www.youtube.com/watch?v=bzki84g-4Sg
1. Setup apps
2. Add Apps to group
3. Quick Actions | save more gestures !
4. Create Shorcuts in the Palm Launcher
5. Delete Shorcuts in the Palm Launcher
6. Alarms | Start app groups at a set time
7. Twitter features
8. Just type features
1. Setup Apps
Select your apps among the list provided by the app catalog, beta & web distribution, and homebrew apps…
… or tap on the arrows icon and select apps from Palm Built in apps like Email, Messaging, photos, …
2. Add Apps to group
Select in which group you want to add the selected app & add other apps and rename the app group to News for exemple.

You can also delete an app or reorder every apps inside a group.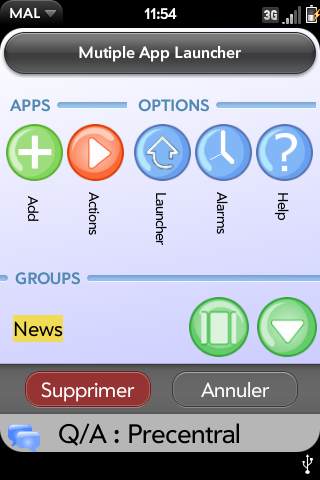 3. Quick Actions | save more gestures !
Quick Actions are the easier way to setup all your favourite apps at once. Quick Actions allow you to start an app and perform an action inside the launched app. For example, launch a Twitter client directly on your profile, launch Palm Web Browser on your faouvrtite website, e.g …
Help for Govnah and Foursquare Quick Action setup
Ask for more Quick Actions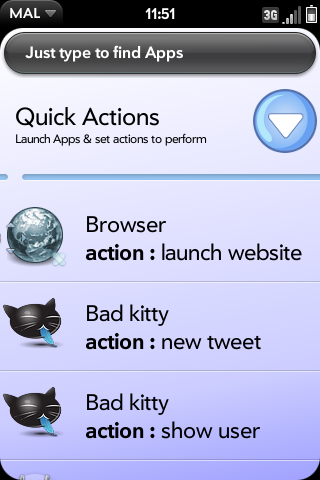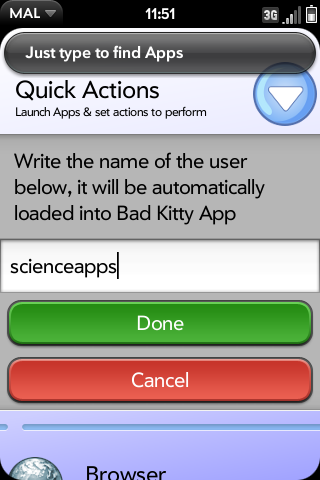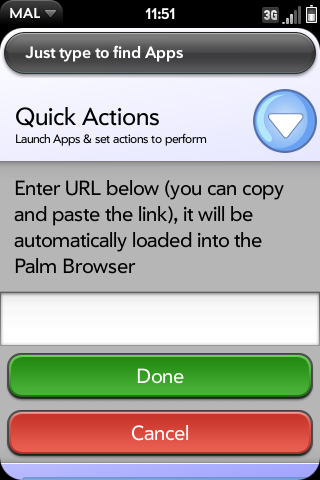 4. Create Shorcuts in the Palm Launcher
Create Shortcuts in the Palm launcher is really simple. Tap on the launcher icon in the options menu. Choose a color for your shortcut icon, and tap on + icon to create the shortcut. A dashboard message is displayed if creating shortcut is successful.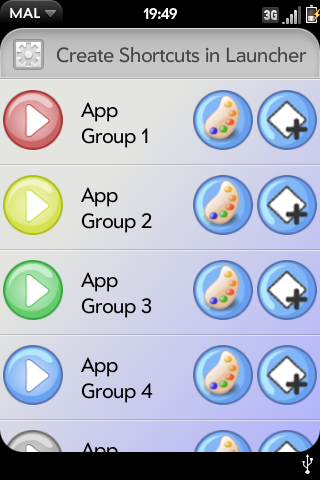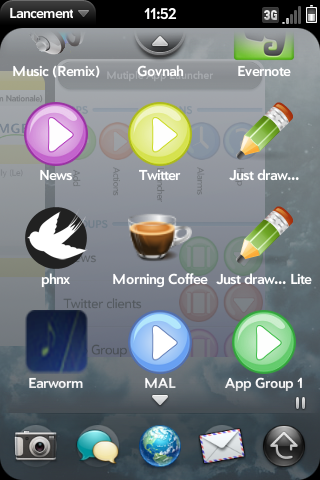 5. Delete Shorcuts in the Palm Launcher
In order to delete shortcuts icons, tap on the shortcut icon while pressing gray (or orange) key. The following dialog will be displayed.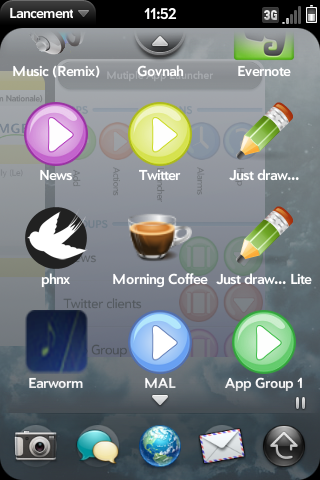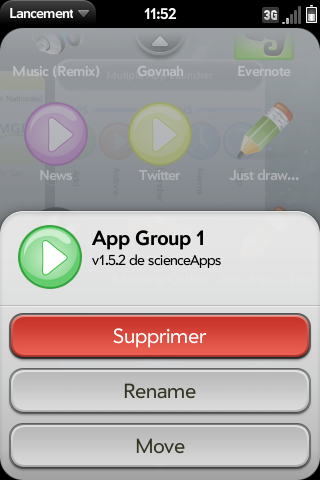 6. Alarms | Start app groups at a set time
Alarms are still provided as a beta version.
Alarms features allows user to start app group at a set time. Choose when you want an app group to start, Choose time interval between starts (default is 24 hours).
Each app group alarm can be activated by tapping on the checkbox.
Note : An alarm shall be set at least 5 minutes in the future. To disable an alarm, clear the checkbox. 2 groups can't be launched at the same time, only one will be launched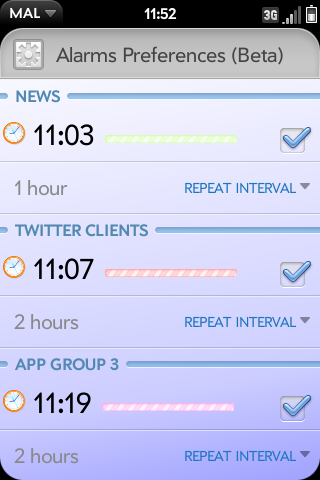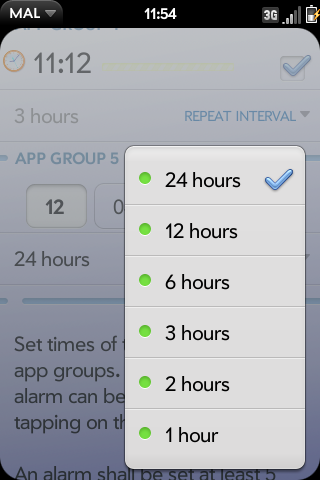 7. Twitter features
Enter your Twitter username and password and the textfields. Each time you will launch an app group, a tweet will be sent to your twitter account.
Here's a sample :
#MALwebOS : Now Launching : precentral news…., webosroundup to go, bad kitty, carbon…
If you search for #MalwebOS hashtag, you will see all apps launched recently by all users. Here's the link (which is also available in the app header)
http://search.twitter.com/search?q=malwebos
8. Just type features
Available for webOS 2.x only, in the palm home screen, just type "1" (without quotes) and app group 1 will be launched !!! type "2" for app group 2, …
Any questions ? Leave a comment !