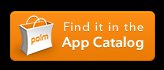 Alcotest estimates your blood alcohol content, but also the time when you can drive. You can follow your friend's BAC at once and add customizable drinks. Tests | reflexes and balance using the accelerometer | Find your location near nightclubs, bars and restaurants to continue your evening, or hotels or taxi if you're too drunk! | Share your BAC and test scores on Facebook, SMS or generate a detailed monitoring that you can receive by emails to keep track of all your evenings in your inbox. New version : now fully tested on a real Palm Pre &Pixi.
Présentation de l'application : Version Française
AlcoTest est une application très sérieuse qui vous servira énormément en soirée! Elle permettra de répondre à toutes les questions fatidiques que l'on se pose souvent pendant ou après une soirée bien arrosée : « C'est qui le plus/moins bourré d'entre nous en fait là ? » Plus de disputes interminables pour savoir qui a vomi sur le tapis de la salle à manger ! « C'est qui qui ramène Tata Josette à la maison ? » Plus de faux semblants et d'inquiétudes pour Tata Josette, Altotest désignera le ou la volontaire d'office pour la raccompagner chez elle ! Plus sérieusement, Alcotest permet de suivre l'alcoolémie de votre entourage en temps réel grâce à la possibilité de créer plusieurs profils. Une liste de boissons est disponible, mais vous pouvez tout personnaliser et sauvegarder. Entrez les boissons que vous avez bues et les heures d'ingestion, Alcotest vous indiquera l'heure de votre taux d'alcoolémie maximum, le taux d'alcoolémie zéro mais aussi l'heure à laquelle vous pourrez reconduire (les taux légaux sont personnalisables). Un histogramme de votre taux d'alcoolémie complète les informations données par le logiciel. Enfin, le taux d'alcoolémie peut être traduit en termes d'atteintes au niveau du comportement social, ainsi qu'en termes de déficiences psychomoteurs. Nouveautés dans la version 0.8.0 : Application testée sur un vrai Palm !!! | Tests de réflexes et d'équilibre utilisant l'accéléromètre | Trouver près de votre position des discothèques, bars, restaurants pour continuer votre soirée, ou des hôtels ou taxi si vous êtes trop bourrés ! | AlcoTest vous aide aussi à retrouver votre voiture ! | Partage de votre taux d'alcoolémie sur Facebook, par SMS ou génération d'un suivi détaillé que vous pouvez recevoir par email pour garder trace de toutes vos soirées dans votre boite mail.