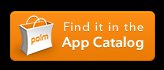 Online Help for Multiple App Launcher
New features for update 1.0.0 :
New app selector with icons
Multiple app launcher can now close itself after job is done
Full Description :
Multiple App Launcher allows you to start multiple applications at once, avoiding tap, flick and gestures. Choose your favourite apps from app catalog, beta & web feeds, homebrew apps and built-in apps (calendar, phone, …), then press a single button to launch them simultaneously! Save your time! Create up to 5 different app groups! Multiple App Launcher also remembers the app group you want on start-up, in order to launch your favourite apps with one tap !
Multiple App Launcher: fast & easy !
Stacks features coming soon with WebOS 2.0